Kaye RT Valprobe (Real Time)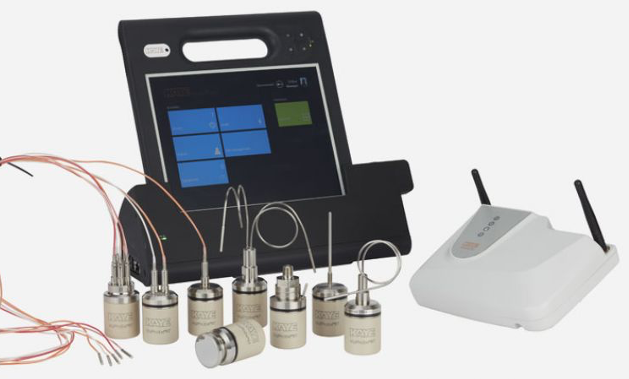 Kaye ValProbe® RT (Real-Time) is a wire-free real-time process validation and monitoring system designed around the measurement and reporting requirements of the most intensely regulated industries.
It is a state of the art validation system design that meets industry and regulatory (FDA / GAMP) requirements for thermal validation. The ValProbe RT system combines high accuracy measurements, automated sensor calibration, an intuitive metro style user interface, and extensive reporting to simplify the complete validation process.
Kaye ValProbe RT is the successor of the widely recognized Kaye ValProbe, the accepted standard in wireless validations systems for over 15 years.
The ValProbe RT family of data loggers provide accurate, convenient, and reliable process measurement for a wide range of pharmaceutical, and medical device applications. The wireless design greatly simplifies monitoring and validation of severe and hard-to-reach environments. See the table below for logger-types and recommended applications.
Lifting Real Time Validation to the Next Level!
The Kaye ValProbe RT System is a unique design and concept combining a ValProbe RT system with a Validation Console.
The Console is a rugged, hardened tablet to interface with your Kaye ValProbe RT and legacy hardware. It is pre-loaded with all Kaye software and specifically engineered to Validation tasks only. This concept greatly simplifies software validation and dependency on continuously changing PC's, Operating Systems, and core loads.
The Kaye ValProbe RT is intuitive, efficient, and easy to operate – allowing you to focus on the validation, not the technology.
Kaye ValProbe RT
Datalogger
Steam Sterilizers 
Dry Heat Sterilizers
Steam in Place (SIP)
Water Cascade/Fall Sterilizer
Incubators
Stability Chambers
Freezers
Freeze Dryer /Lyophilisation
Vessels
Temperature
Rigid Logger

•

•

•

•

•

•

•

•

Temperature
Flexible Logger

•

•

•

•

•

•

•

•

Temperature
Bendable Logger

•

•

•

•

•

•

•

•

•

Temperature
Freeze Dryer Logger

•

•

•

•

Pressure/Temp Logger

•

•

•

•
Kaye Valprobe RT Features:
Life data under harsh conditions via RF during validation study
RF-Range up to 100 meters
Temperature Range -85 to 400°C
Up to 100.000 samples per sensor
Scan rate down to 1 second
ValProbe system capacity up to 50 loggers/250 sensors
Customer interchangeable batteries
Accuracy up to 0.1°C
Unmatched battery life
Kaye ValProbe RT Generic Specifications
Base Station Dimensions
 7.6 in x 5.2 in x 2.2 in
190mm x 130 mm x 55 mm
Logger Dimensions
Hight: 1,9" / Diameter 1,4"
48mm / 36mm
Logger Material
Stainless Steel 316L and Peek
Battery
Field replaceable – 3.6V Lithium
Sampling Rate
Starting at 1 sec
Data Storage
100.000 Samples
retained in non-volatile memory
Real-Time Clock Accuracy
< 15sec/day
Calibration
NVLAP/DAkkS Calibration
Verification
Automated User
Verification capability
Sensing Element
Precision Platinum RTD
Environmental Temperature
-85°C to 140°C
Environmental Pressure
0-5bar absolute
Environmental Humidity
0-100% condensing
Regulatory Compliance
UL and CE
Temperature Loggers
Specifications
Rigid
Bendable 
Flexible
Surface
Sensor Type
Single Sensor
Single and Dual Sensor
Single, Dual and 5-Channel
Ultra Flat Surface Sensor
Sensor Lenght
1.5, 3, 6, 9″ inches
38, 76, 152, 229 mm
12, 24, 36″ inches
305, 610, 915 mm
40″ inches
1000 mm
Tip Diameter
0.118″; 3mm
0.095″; 2.4mm
0.095″; 2.4mm
32mm diameter
Meassurement Range
-85°C to 140°C
-85°C to 400°C
-85°C to 140°C
-85°C to 140°C
Accuracy
-85°C to 140°C,     ±0.1°C
-85°C to 140°C,    ±0.1°C
140°C to 400°C    ±0.25°C
-85°C to 140°C,     ±0.1°C
-85°C to 140°C,     ±0.1°C